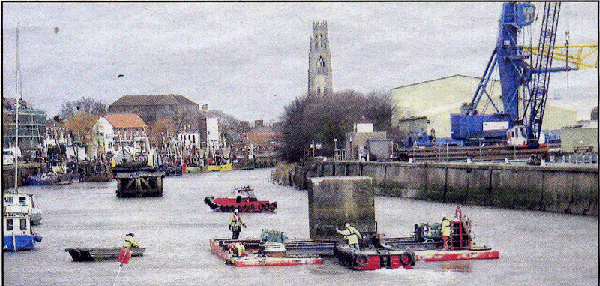 The concrete from the legs and the dolphin itself will be broken down and recycled - the rubble to be used as hard core for the new lock.
An Environment Agency project manager Andrew Usborne said:
"The dolphin had served its purpose in that it made it impossible for boats to get from the tidal Haven into the South Forty Foot Drain where they could have got into difficulty or damaged the bridge and flood outfall.
"When the new lock is built boats will be able to come from the Haven onto the South Forty Foot and into Boston increasing the recreation opportunities and encouraging tourism in the town.
"We are incorporating a fender into the new lock to make sure the drainage outfall is still protected."
When the work is completed towards the end of the year the lock will allow boaters to get from the Haven into the South Forty Foot Drain for the first time.
There will also be temporary moorings for boaters, a new cycle path and a visitor centre and cafe at the Black Sluice pumping station site.
Construction of the lock by the Environment Agency is being funded by Lincolnshire County Council, East Midlands Development Agency and the European Regional Development Fund.
It is the first stage in the Lincolnshire wide Fens Waterway Link scheme which is touted as the biggest waterway enhancement project in Europe. Those behind the project say it will open up 240km of waterway and connect Boston, -Spalding, Crowland, Lincoln, Peterborough, Ely and Ramsey with the aim of promoting recreation, tourism and the environment.