The East Anglian Waterways Association



Promoting access to the navigations of East Anglia for all





Denver Sluice Update. October 2008
Over the last couple of years the EA had to dredge the accumulated silt from below Denver Lock, as the bank was occasionally causing boats to ground whilst waiting to enter the tidal lock from the Great Ouse. See here for an idea of how bad it was!

The reason for the accumulation is that no water has been allowed to flow down from the Little Eyes in the Sluice, as most water from the "Ely Pond" is now sent back up the Cut-off Channel en route for South East Essex reservoirs!

The EA have now decided that the Little Eyes should be reinstated. Each of the three eyes have a guillotine gate, which are protected by tidal doors. These doors have been silted up by the incoming tides, and hence not able to open when water is let out through the guillotine sluice. In 2007 £500,000 was spent investigating the problem, and a year later work is in progress. At the moment two eyes have stop plates installed on the tidal side and each gate is being sheaved with marine ply, and their hinges checked by divers. The divers will also be installing aerators, which will be connected to a compressor. In this way the silt can be agitated and hopefully not accumulate against the tidal doors - now why didn't Rennie think of that when he designed the sluice?

Pictures show contractor watching the leaking stop plates in the second eye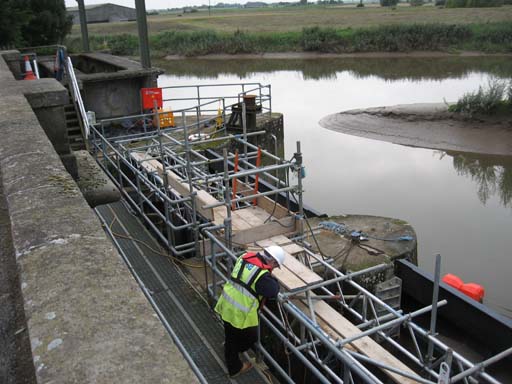 and the view from downstream shows the guillotine lock on the left, the second and third Little Eyes with stop plates installed, and the Big Eye, which was the original navigation sluice for larger craft and tows of lighters when the river and tide were "on the level". This is now closed on the tidal side by a large concrete stop plate.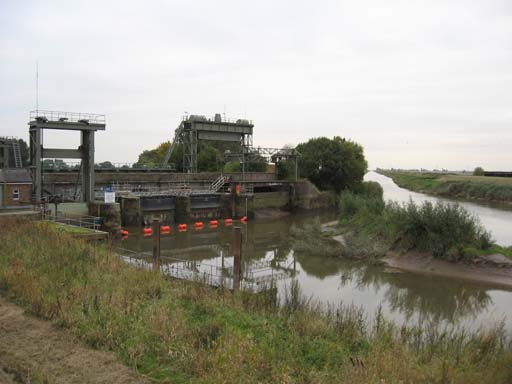 Ivan Cane, 6 October 2008.
---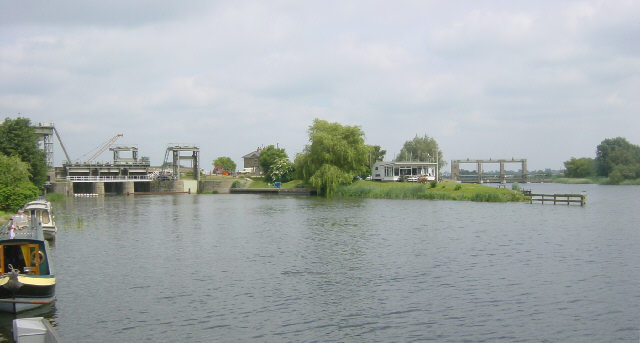 Denver Sluice
Denver Sluice, on the River Great Ouse near Downham Market, Norfolk,
controls water levels over parts of the fens and stops high tides from flooding low lying areas.


[Some Rights Reserved]
© Copyright Martin Clark and licensed for reuse under this Creative Commons Licence. .
---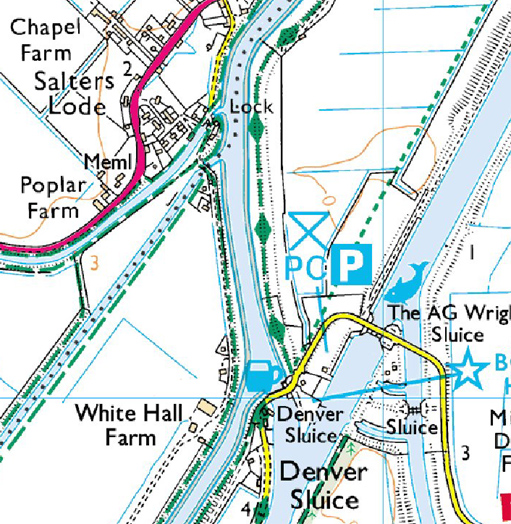 Image produced from the Ordnance Survey Get-a-map service.
Image reproduced with kind permission of Ordnance Survey and Ordnance Survey of Northern Ireland.
---
Royal Haskoning is one of six selected consultants working on a prestigious framework agreement for the Environment Agency, running until the end of 2009.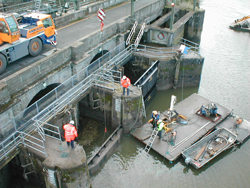 Photo caption: Refurbishment of the Little Eyes at Denver Sluice, Norfolk
(Royal Haskoning is an innovative firm of environmental scientists, consultants, civil engineers and transport planners.
Of which, 300 of which are based in Peterborough, and 4,300 in total based in 68 offices world-wide.)
---
New wet meadows created in the Cambridgeshire Fens are now attracting nesting wading birds – and point towards a solution to one of Cambridgeshire's biggest environmental challenges.

The East Anglian Waterways Association is a believer in "Waterways for All" - promoting access to our navigations for the community - whether walkers, nature lovers, anglers, canoeists, boaters or gongoozlers. We work with and support many local societies, trusts and other user bodies in the area - Please visit our LINKS page for more information.
©2013 -

East Anglian Waterways Association Limited - Reg. 895405 - Registered Charity No. 251382